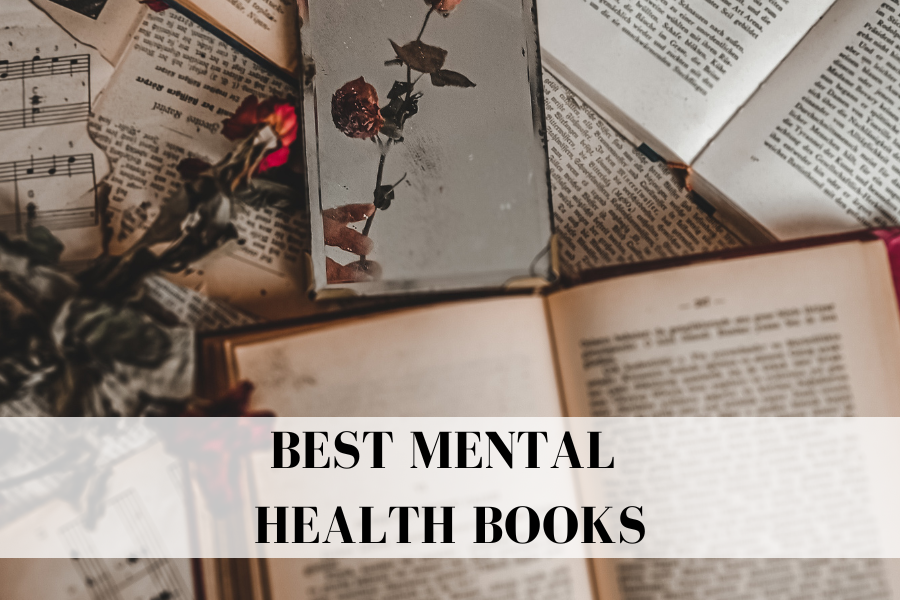 11 Life Changing Mental Health Books to Add to Your Reading List
Mental health books can open our eyes to new perspectives on managing our mental states and can provide us with insight and understanding. Whether it is a self-help book, memoir or novel, this list of mental health books can assist in supporting your emotional health journey.
---
*This post may contain affiliate links, which means I may receive a small commission, at no cost to you, if you make a purchase through a link!*
What to Look for in a Mental Health Book
When selecting a mental health book, it's important to consider valuable takeaways. Look for books with practical advice, tips on how to recognize warning signs of stress and emotional struggles, and guidance on developing healthy coping mechanisms. It can also be helpful to read reviews or recommendations from mental health professionals to ensure the book provides accurate information.
Tips for Finding More Mental Health Books
If you've already read the books on this list and are looking for more, there are many resources to discover new stories and insights on mental health. Bookstores or websites specializing in mental health and self-care can be good places to start. You can also explore online platforms for reviews when searching for specific topics that interest you. Additionally, blogs, YouTube channels, podcasts, and other multimedia outlets devoted to mental well-being provide insight and education for their audiences.
Advice for Making the Most of Your Mental Health Book
It's important to remember that no book is one-size-fits-all and you should take advantage of the range of opinions and approaches available. Before beginning a book, take some time to learn about its author and theme. Pay attention to any reviews or ratings that have been written by other readers so you have an idea of what type of material it contains. After reading a book, try talking about it with a friend or joining discussions on mental health in online forums — this can help you gain insights from different perspectives. Lastly, feel free to take your own advice from the books you read – the best way to create lasting change is to put your learning into action.
How the Courage to Be Vulnerable Transforms the Way We Live, Love, Parent, and Lead
Daring Greatly is a book about embracing vulnerability, courage and shame. Brene Brown speaks of resilience – the way we can become more brave and confident in the face of adversity. This New York Times Best Seller sheds a different light on mental health, one filled with understanding that teaches us to learn from our struggles instead of being overwhelmed by them.
Written in easy-to-understand language, The Anxiety and Phobia Workbook explains common phobias, as well as general and specific anxiety disorders. Exploring topics like panic attacks, stress management,and lifestyle change; this book offers step-by-step exercises on how to face your fears and understand their source. It also provides strategies for making a positive lifestyle change that can help stay resilient to life's challenges.
In this life-changing book, Pema Chodron offers terrifying yet inspiring guidance on how to live with spirituality and compassion amidst a world full of chaos, upheavals, and suffering. When Things Fall Apart explores how relationships both suffer and benefit from our ability to open the heart and allows us to deal more effectively with life's challenges. Most importantly, it helps readers learn how to transform overwhelming challenges into valuable opportunities for growth.
This acclaimed book by renowned psychiatrist David D. Burns is truly a classic in the realm of psychology and mental health. Unlike other books on antidepressants, Feeling Good, offers tangible advice on how to manage and overcome negative thinking. Through this book you'll learn how to reframe your thoughts, enable behavioral change and become aware of negative thinking patterns. It takes a hopeful look at conquering depression, anxiety and other mood-related problems, proving that you have the power to get better.
Mind Over Mood is ideal for individuals in need of actionable ways to take control of their mental health. In this book, the authors explore cognitive-behavioral therapy (CBT) and how it can be used to rewire our brains and cultivate psychological self-care. Through its straightforward worksheets, CBT can uproot maladaptive thinking patterns and reduce stress. This lifesaving guide provides practical strategies on how to better deal with depression, anxiety and panic attacks among other disorders.
RELATED BLOG POST: 10 Best Calming Books to Read before Sleep – Luciepo
Written by renowned author and speaker, Brene Brown, The Gifts of Imperfection helps readers let go of the guilt and shame that hold them back from true happiness. By breaking down concepts such as courage, compassion, and connection, this book provides practical advice on how to practice self-care, cultivate gratitude, and live with greater trust in yourself.
Cognitive Behavioral Therapy (CBT) has become an increasingly popular method of treatment for many mental health issues. Dr. Strand's book is the perfect introduction to CBT, breaking down the concept with simple, easy-to-follow advice that will help you understand and apply this important therapy in your own life. You'll learn how to recognize and challenge negative thought patterns and explore the different types of CBT. The ultimate goal is for you to have more control over your thoughts and emotions on a day-to-day basis.
The Mindful Way Through Depression offers readers a way to manage their depression in an evidence-based, mindful way. This book provides practical tools for finding peace amidst the struggles of depression. It trains readers on how to use mindfulness-based cognitive therapy and mindfulness practices to better understand and address underlying problems brought on by depression. Through this practice, readers will gain greater self-awareness and overcome feelings of chronic unhappiness.
Augusten Burroughs's New York Times bestselling memoir is a valuable and entertaining look at the realities of self-care. This Is How provides thought-provoking insight about how to overcome personal struggles and take charge of your life. Burroughs offers vivid, often comical stories and strategies for addressing difficult situations ranging from dealing with bullies to working through addiction.
This New York Times bestseller has been an invaluable resource to those seeking greater self-awareness and knowledge about the impact of trauma on the brain. Drawing from thirty years of research with thousands of patients, The Body Keeps the Score explores the devastating impacts that trauma can have on the body, before offering treatment and coping skills for recovery. With compassionate advice and thought-provoking insights, it's a must-read for everyone seeking to gain greater insight into their mental health.
Lost Connections is a fascinating look at why modern society encourages depression and anxiety, and how can we change our lives for the better if we recognize the real underlying causes. In this book, journalist Johann Hari reveals that depression isn't caused by a chemical imbalance in our brains – but rather by problems with things such as meaningful work, community, identity, relationships and our connection to the natural world. He offers suggestions on how to heal these problems and offers an inspiring view of personal growth and healing.
---
This blog post was all about 10 Best Mental Health Books
Taking action to prioritize mental health is an essential step to feeling better. Whether it be books that discuss the science behind mental health, or those that are full of practical tips – finding the right book can become invaluable in helping us reframe our own experiences. To find the best mental health book for you, sift through the many options and select a book that aligns with your goals. With the right resources, we can increase our power to make positive changes to our mental health and well-being. As psychologist Albert Ellis put it, "That which we persist in doing becomes easier for us to do; not that the nature of the thing itself is changed, but that our power to do is increased."
---
Like it? Pin it!