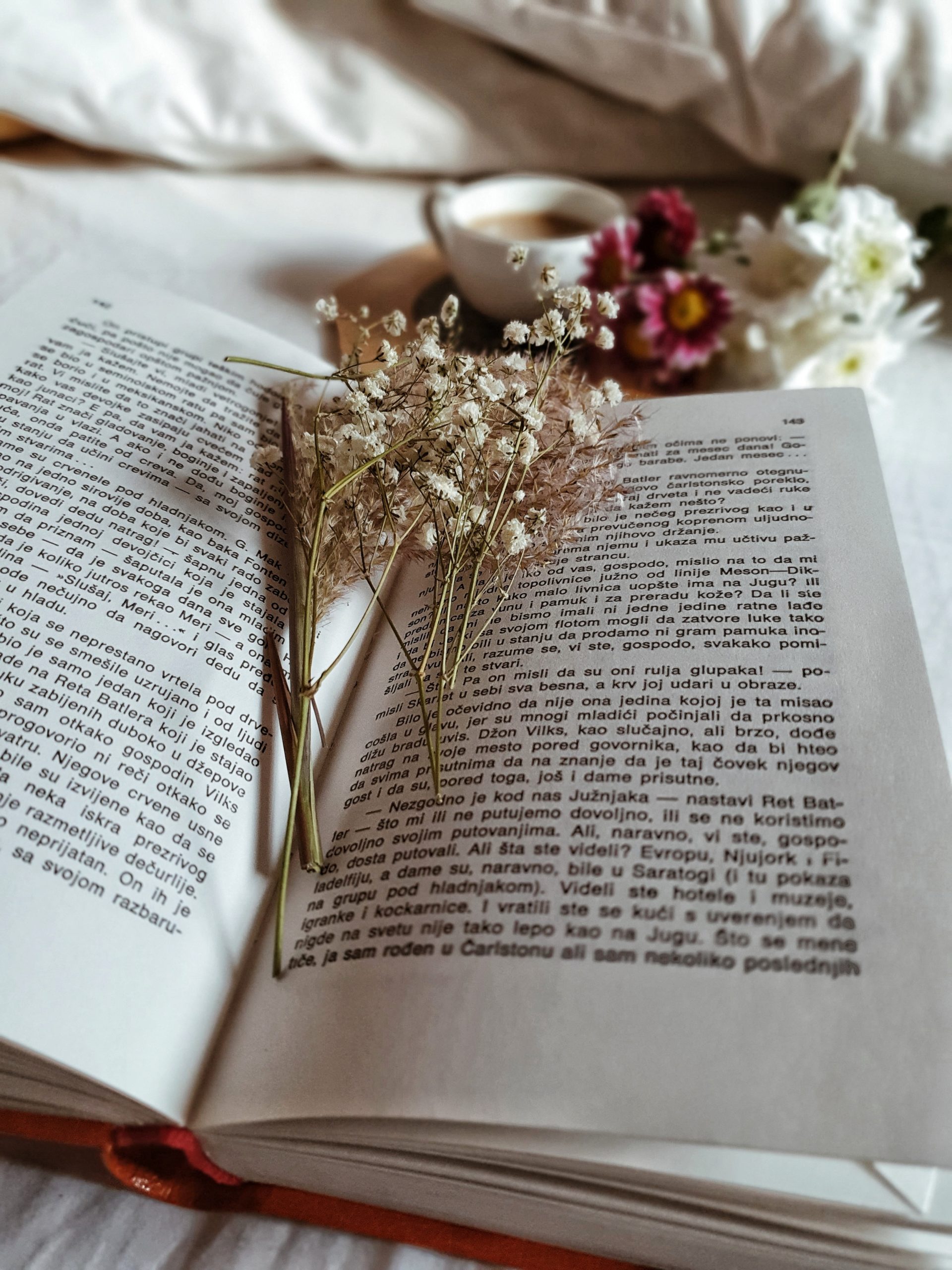 10 Best Calming Books to Read before Sleep
Have you ever thought about how you can upgrade your evening routine and get even better sleep?
One of the best things you can do for your health, sleep, and mind is to read a book. Very simple, I know. Yet so many people still struggle to keep up with this habit and choose TV or their mobile phone to get entertained in the evening.
The biggest difference between these two options is that the electronic devices emit blue light which keeps the production of the sleep hormone melatonin down. The books, on the other hand, have so many benefits so let's get into them in this blog post.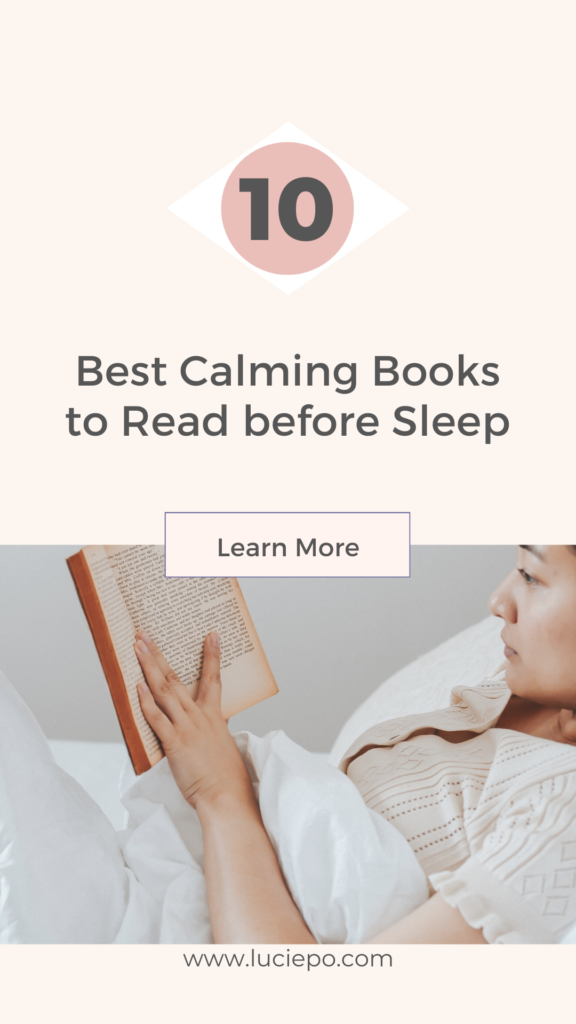 Cognitive function
Reading books have been proven to improve people's cognitive functions and train their brain. This might protect us against age-related diseases like Alzheimer's disease. There is no doubt reading helps us increase our vocabulary which comes in handy when we have an intellectual conversation with a coworker or a friend.
Stress reliever
Immersing ourselves in a book, focusing on the main character, or dreaming about a situation described in the book helps us forget about the outer world for a while and thus reducing the stress and anxiety that we face every day. Reading has such a calming and soothing effect; I couldn't recommend it more!
Relieve insomnia, Promote longer sleep duration, and Improve sleep quality
Reading books right when you go to bed can shorten the time needed to fall asleep. Distracting your brain from racing and anxious thoughts can help you turn your attention to someone else's life for a while and thus forget about your own problems and ease your mind before you hit the hay.
E-readers vs paper books
E-readers are great, however, they can interfere with the production of melatonin and thus reducing REM sleep quality. They can also delay circadian rhythms by keeping you awake longer. As a results, you might feel less alert in the morning and throughout the day.
I recommend setting a reminder on your phone and once it appears on the screen, stop doing whatever you were doing and start with your wind-down routine – journaling, reading, meditation; whatever works the best for you. If you keep doing this every day it will become a habit and it will come automatically to you.
Okay, great, we got that covered, so let's have a look at the list of my top 10 books that I recommend to read before you go to sleep and hit the hay. I have already read the majority of these books and I loved them myself so I believe you would like them too.
Keep reading. Literally.
10 RECOMMENDED BOOKS
Eat pray love is one of my fav books and it has also been filmed as a movie starring amazing Julia Roberts.
This is a story about a married American woman who realizes that she was unhappy in her marriage and with her life even though she had a handsome husband, a house and a successful career.
She decides to take a trip to Italy, India, and Bali to find herself and learn about herself and maybe to find unexpected things along the way.
Untamed is a book I finished reading recently. It is based on a true story about the activist, Glennon Doyle, who empowers other women to explore the joy and peace we discover when we decide to stop meeting other people's expectations and start living our life while trusting the voice within us.
It is about not denying ourselves and following our wants and needs.
This book is also packed with so many thought-provoking ideas and thoughts.
The 5 love languages is a book for those of you who want to understand what your love language is and what is the language your partner likes to speak.
Everyone perceives love differently and by learning what our language is we can deepen and maximize our relationships.
So which language will be yours? Is it spending quality time with a loved one, using words of affirmations (compliments), receiving gifts, acts of service or a physical touch?
The Alchemist is a story about an Andalusian shepherd boy who is in search of treasure in the Egyptian pyramids.
On the way he meets mentors, falls in love and learns about the importance of who he is and how to become a higher version of himself.
This is a must-read if you want to learn stories about the essential wisdom of listening to our hearts and following our dreams.
Home body is the only poetry on this list of books. I am sure you know Rupi Kaur and how deep her texts are.
This book should remind us to fill up on love, acceptance, community, family and to embrace change.
I have not read this book yet, however, I know it will be amazing as well as Milk and Honey or The Sun and Her flowers were.
The Courage to be Disliked is a dialogue between a philosopher and a young man. The philosopher helps the young man to understand how each of us is able to determine the direction of our own life, free from past traumas and the expectations of others.
This book focuses on the concepts of self-forgiveness, self-care and mindfulness.
It is a deeply liberating way of thinking, allowing you to develop the courage to change and ignore the limitations that you might be placing on yourself. This plainspoken and profoundly moving book unlocks the power within you to find lasting happiness and be the person you truly want to be. 
The little book of Hygge is an amazing book for those autumn/winter evenings when you just want to snuggle under your blanket.
It uncovers the secret why Danish people are so happy.
It is the is a sense of comfort, togetherness, and well-being that are important to them and what they are projecting into their homes and lives.
Hygge is the sensation you get when you're cuddled up on a sofa, in cosy socks under a soft throw, during a storm. It's that feeling when you're sharing comfort food and easy conversation with loved ones at a candlelit table. It is the warmth of morning light shining just right on a crisp blue-sky day.
The subtle art of not giving a fuck
The subtle art of not giving a fuck is a book I am currently reading and even though I'm just at the beginning I already love it so much!
It's very easy to read and hilarious! I just can't stop laughing.
Moreover, we are advised to get to know our limitations and accept them. Once we embrace our fears, faults, and uncertainties, once we stop running and avoiding and start confronting painful truths, we can begin to find the courage, perseverance, honesty, responsibility, curiosity, and forgiveness we seek.
The things you can see only when you slow down
The things you can see only when you slow down is a book that I'm just planning to read.
I'm expecting to find information about how to improve one's well-being and learn what to really focus on in life in order the enjoy the moments of contentment and happines.
99 things that bring me joy is another book on my list.
Obviously, I intend to focus my life on those small and ordinary things that are not that ordinary if you think about it.
There is always something to be grateful for and I believe if we see value in our daily moments, life will be more beautiful and joyful.
The Joy of small things is last (but not least) on the list.
As I mentioned earlier, focusing on small things and living in the present moment is the key.
Also, I really like the cover of this book so hopefully even the content of it will be useful and insightful.
Will let you know!
Let me know in the comments what is your favourite book!
Sleep tight!