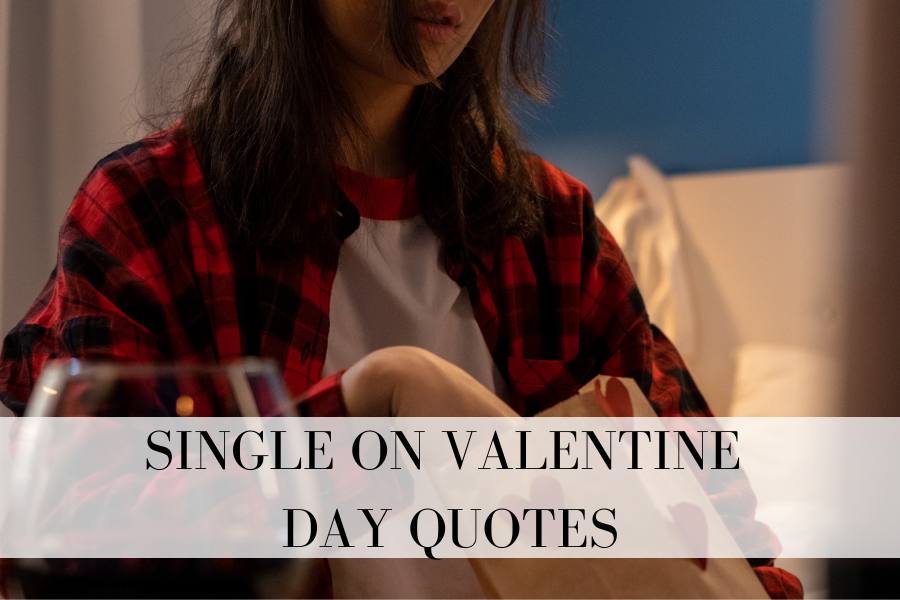 40 Powerful 'How to Be Single On Valentine Day' Quotes
Looking for some uplifting words for the upcoming Valentine's day? Being single during this time doesn't have to be lonely and depressing.
I've prepared this blog post full of inspirational 'How to Be Single On Valentine Day' quotes so you can make this month more enjoyable whether it is by reading these quotes while drinking a hot chocolate or writing down some of these quotes during your journaling sessions.
Check my latest blog post with even more quotes and affirmations related to February HERE.
But now, make yourself that hot cacao, and let's jump in!
Table of Contents
Funny 'Single On Valentine Day' Quotes'
Inspiring 'Single On Valentine Day' Quotes'
Funny 'Single On Valentine Day' Quotes'
1. This Valentine, I can't help but envy my calendar simply because it has dates whereas I don't.
2. Not celebrating Valentine's day this year? Don't worry, there are plenty of other holidays throughout the year!
3. This Valentine's Day, I'm not looking for love…I'm looking for chocolate!
4. Had singleness been an Olympic sport, I would surely win multiple gold medals.
5. "Valentine's Day is for couples. Us singles have the other 364 days of the year to enjoy ourselves!" — Unknown
6. "Being single used to mean that nobody wanted you. Now it means you're pretty sexy and you're taking your time deciding how you want your life to be and who you want to spend it with." – Sex and the City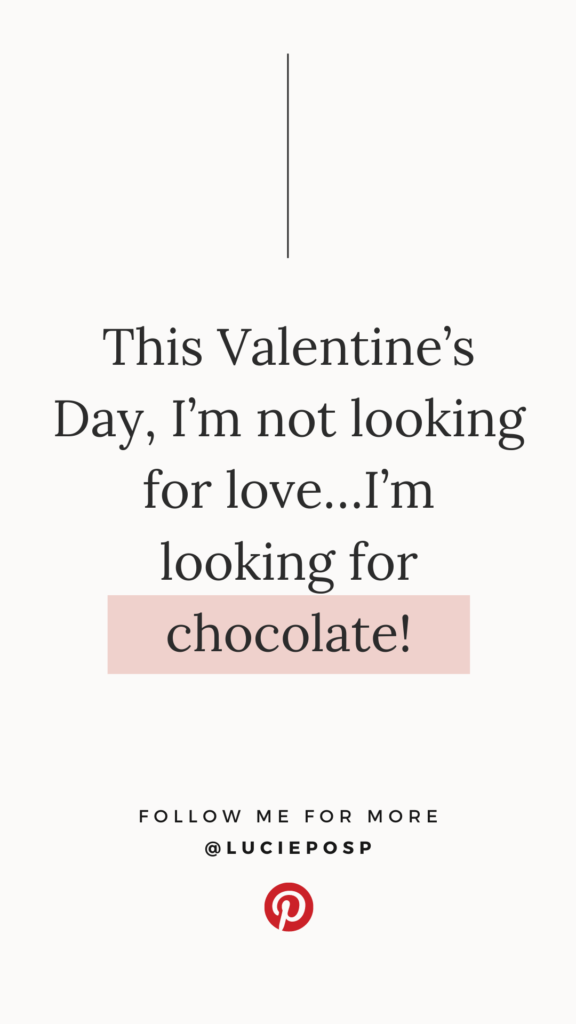 7. "Valentine's Day is a time to celebrate the joy of being in love. Unless you're single and lonely then it's called Laundry Day." – Dane Cook
8. "Single is an opportunity to live life on your own terms and not apologize." – Mandy Hale
9. "I don't understand why Cupid was chosen to represent Valentine's Day. When I think about romance, the last thing on my mind is a short, chubby toddler coming at me with a weapon." – Unknown
10. "If lovers get half price off on Valentine's Day, then singles should just get everything for free!" – Unknown
11. "Some people are settling down, some people are settling and some people refuse to settle for anything less than butterflies." – Carrie Bradshaw in "Sex in the City"
12. "If acquiring a boyfriend was as easy as becoming fat, I certainly would have had one to share my Valentine's Day with." – Unknown
13. "This year's Valentine's Day I will enjoy long, romantic walks to the fridge." – Unknown
14. I'm like a one-man shipping vessel on Valentine's Day – mateless.
15. After I got finished dealing with him for his last screw-up Cupid is thoroughly afraid of even looking my direction on Valentine's Day.
16. I have chosen to be single because it makes my bank account as fat as Shrek.
17. The faithful pizza delivery man, who lovingly spreads pepperoni over the cheese, is the only Valentine I need this year.
18. Since I don't have a partner, on Valentine's Day, I will go around and collect Cupid's broken arrow and then sell it back to him on eBay.
19. Valentine's Day is appropriately the only holiday where the popular character that symbolizes the occasion is brandishing a very deadly weapon. Thank God I'm single!
20. Me and an entire box of chocolate all to myself is a match made in heaven!
Inspiring 'Single On Valentine Day' Quotes'
21. "You alone are enough. You have nothing to prove to anybody" – Maya Angelou
22. "If being in love is what it means to be free, then this Valentine's Day my heart is in solitary confinement!" – Unknown
23. "S.I.N.G.L.E = Strong, Independent, Noticeable, Generous, Loyal and Enlightened" – Unknown
24. "I don't need a man to rectify my existence. The most profound relationship we'll ever have is the one with ourselves." –Shirley MacLaine
25. "I love being single. I can come and go as I please and stay out as late as I want to." – Eric Dickerson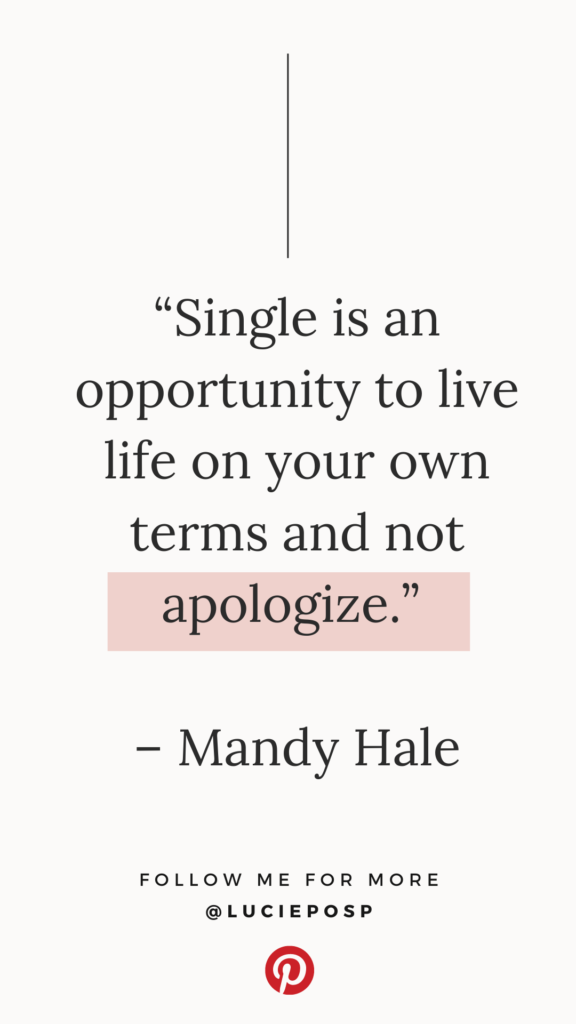 26. "I think, therefore I'm single." – Liz Winston
27.  "Being single doesn't necessarily mean you're available. Sometimes you have to put up a sign that says, "Do Not Disturb" on your heart." – Wiz Khalifa
28. "Single is an opportunity to live life on your own terms and not apologize." – Mandy Hale
29. "You cannot be lonely if you like the person you're alone with." – Wayne Dyer
30. "Don't be sad if you are single on Valentine's Day. Work hard, achieve something and see, one day, the right person will cross your path." – Harshal "Harry" Batha
31. "I like being single, I'm always there when I need me." – Art Leo
32. My alone feels so good, I'll only have you if you're sweeter than my solitude.
33. "I celebrate myself, and sing myself." – Walt Whitman
34. "Being single doesn't mean that you know nothing about love. Sometimes being solo is wiser than being in a false relationship." – Unknown
35. "You don't need a significant other to lead a significant life." ― Mandy Hale
36. "No girl should ever forget that she doesn't need anyone who doesn't need her." – Marilyn Monroe
37. "You've got to be fond of yourself enough to support yourself emotionally regardless of the intimate company of someone else." – Chidere Eggerue
38. "Being single is about celebrating and appreciating your own space that you're in." – Kelly Rowland
39. "I am happy every day, regardless of my relationship status, because I understand that my happiness doesn't come from a relationship, it comes from within." – Gregg Michaelsen
40. I never found a companion that was so companionable as solitude. – Henry David Thoreau
Conclusion
Let me know which 'How to Be Single On Valentine Day' quote is your favourite in the comments below.